PRODUCTS ⇒ GMI CAM STITCH
Vision system for easy and precise stitching of patches, appliqué and embroideries on printed items.
The camera takes a photo of the patch, appliqué, letters or numbers, the software automatically creates the border stitches and the system place them in the correct position.
The vision system also match an existing embroidery or border with appliqué, patch or print.
FOR MORE DETAILS VISIT THE DOCUMENTATION PAGE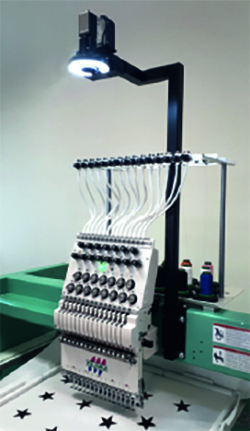 DESCRIPTION
Compatible with any embroidery machine –The new simple way to embroidery
– no more offset problems
– no more positioning headache
– top accurate matching of embroidery, patches, appliqué and print
Automatic patch and appliqué sew
Place the applique and instantaneously the system will create the stitches.
Automatic patch sew
Simply place the patch, take a picture and the machine will sew it.
Match embroidery and applique
Detect the applique position and automatically place the embroidery design (no offset problems).
Match stitches to printed items
Get perfect match between embroidery and printed design