PRODUCTS ⇒ GMI BORDER CUT
Automatic laser cutting machine for curtains and lace borders.
Automatic plaiting machine equipped with laser unit for cutting the borders of fabrics as curtains and laces.
The laser system cuts the border of fabrics with high precision and speed.
From the long experience on laser cutting machines, GMI has designed the fully automatic
laser border cutting system for knitted curtains and lace fabrics.
The system is available in two configurations:
– with winding-unwinding machine, for fabrics in rolls
– with crosslapper machine, for folded fabrics
FOR MORE DETAILS VISIT THE DOCUMENTATION PAGE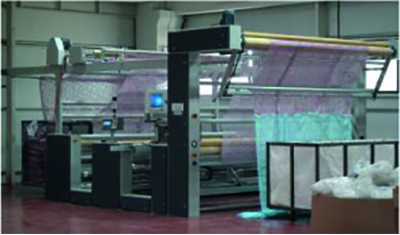 DESCRIPTION
MACHINE:
fabric width up to 3.2 mt
pattern size: 330×150 mm
cutting speed: up to 24 mt/min = 11.5 km/shift (8 hours)
automatic fabric tension control
any color fabric border
Voltage: 400V, 3-phase +N
Power consumption: 20kw, 50Hz
CUTTING UNIT:
sealed Co2 laser source
power 125w
3-axis Galvanometric
scanning head
liquid refrigeration
SOFTWARE:
User friendly interface
Touch screen monitor
Cut preview
Save set of operating parameters
Detect fabric joints, new fabric and border defects
Diagnostic via internet
CONFIGURATIONS:
one border
two borders (option)
plaiting to plaiting
plaiting to rolling
rolling to plaiting
rolling to rolling